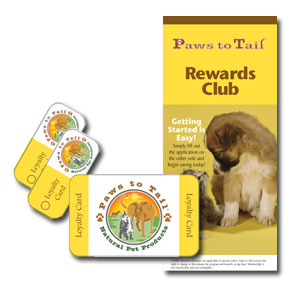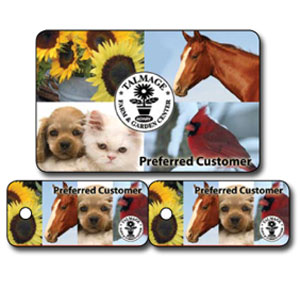 Loyalty Cards
Looking for a Win-Win Solution with your Customers? Loyalty programs are the answer!
Supermarkets have been offering loyalty cards to their customers for years. 
Each time the card is used, purchases are recorded in a database. In exchange, customers get discounts and special offers.
Today, more than 50% of Americans are using them. So how can you utilize this win-win solution in your business? By implementing a loyalty card program, you can identify your customer's buying habits and effectively target your marketing dollars to be used most effectively.
We've got complete loyalty packages with brochures, card and key tags, buttons, 
postcards, mailers and other support materials to kick off your loyalty campaign.
We work directly with your software company to ensure capabilities and handle all of the details. Call Solutions Pet Marketing at (610) 690-7345 to receive a sample card/key tag and brochure and find out how you can build loyalty and watch your business grow!
*Loyalty Card Program includes 5,000 Loyalty Cards/Key Tags, 10,000 
Corresponding Customized Brochures and Matching Signs to post throughout your store promoting the campaign.
Custom Loyalty Card
Cards
Price
1,000
$.80 ea.
2,500
$.70 ea.
5,000
$.60 ea.
10,000
$.50 ea.
Design Fee: $195
Custom Loyalty Card
With 1 Keytag
Cards
Price
1,000
$1.09 ea.
2,500
$.99 ea.
5,000
$.89 ea.
10,000
$.79 ea.
Design Fee: $225
Custom Loyalty Card
With 2 Keytags
Cards
Price
1,000
$1.29 ea.
2,500
$1.09 ea.
5,000
$.99 ea.
10,000
$.79 ea.
Design Fee: $225
Key Tag Only
(Pack of 2)
Cards
Price
1,000
$.75 ea.
2,500
$.65 ea.
5,000
$.55 ea.
10,000
$.45 ea.
Design Fee: $195