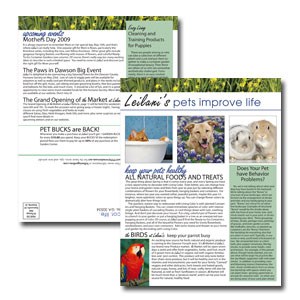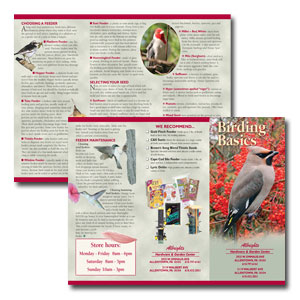 Newsletters
A Personal Message For Your Preferred Customer!
To keep in touch with your valued customer, the Newsletter has become a 
very successful marketing tool. Providing useful information, a newsletter 
will keep customers coming to your store.
At Solutions Pet Marketing, we offer two newsletter programs: Template and Custom. Don't have a mailing list? Mail lists can be purchased for as low as 7 cents per name (based on zip codes, income levels, cat, dog, or equine owner and other criteria you select). Or, distribute through shared mail with Valassis at a very attractive rate.
Brochures
Solutions Pet Marketing offers custom brochures for a professional look without the costly expense. Glossy paper brochures, with a creative layout, will certainly draw attention.
Setup Fee

$650

$900

$650

$1,200

Quantity

2
Page Flyer

(newsletter
or brochure)

8.5"x11"

4
Page Newsletter

11"x17"
(Folds to 8.5"x11")

C-Fold
Brochure

11"x17"

(Folds to 5.6x11)

6
Page C-Fold Newsletter *

11"x25.5"

(Folds to 8.5x11)

Set-Up amount NOT included in prices below

$500

$750

$1,250

$1,750

$750

$1,000

$1,500

$2,250

$1,000

$1,250

$1,750

$2,500

$1,500

$2,000

$2,500

$2,950

$2,000

$2,950

$3,500

$4,000

$2,500

$3,750

$4,500

$5,250
Mailing Services

Quantity

1st
Class



$530

$670

$910

$1,260

$1,735

$2,435

$3,385

$4,785

$5,035

$7,135

$6,685

$9,485

* Additional postage may apply if mailing flat
(8.5" x 11")