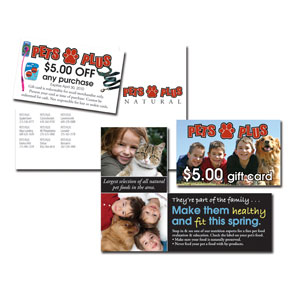 Plastic Postcards
Give your customers Gift Cards to hold and they will use them
Putting a real Gift Card in their hands is like giving cash. Something that won't be thrown out, and that means more traffic in your store and more sales!
Features
Variable Data
Personalize your offer
One or Two pop-out cards available
High Resolution Printing
Bar Code or Magnetic Striping
With Plastic Postcards, you can...
Get 4 to 10 times the ROI of a paper mail piece
Grab their attention among the clutter in their mailbox with a unique plastic postcard
Show prospective customers the value of your offers right away
track your results easily when you scan or swipe the pop out gift card for accurate ROI tracking
Receive a quick response from consumers
Get a long shelf life from a card easy to slip into consumer's wallets, reminding them every day of your offer
Price with your list
Quantity
Price
500
$1.65 ea.
1,000
$1.35 ea.
2,500
$1.15 ea.
5,000
$1.00 ea.
7,500
$.95 ea.
10,000
$.85 ea.
+$175 Setup Fee
Price with pet owner list
Quantity
Price
500
$1.75 ea.
1,000
$1.45 ea.
2,500
$1.25 ea.
5,000
$1.10 ea.
7,500
$1.05 ea.
10,000
$.95 ea.
+$175 Setup Fee